Cancun is known for its white-sand beaches and crystal clear waters, but during the summer months, the emerald shores can sometimes be overlooked due to seaweed infestation. While seaweed is a natural part of the Caribbean ecosystem and an essential part of small coastal communities' livelihoods, it can sometimes be overwhelming and disturbing to beachgoers.
Lucky for you, there are still many spots in Cancun where you can lounge under a palm tree without worrying about seaweed. From lively tourist hubs to secluded oases, here are some of the best beaches in Cancun without seaweed – so you can enjoy a relaxed day underneath the Mexican sun.
Location
Cancun is a popular holiday destination located on the northeast coast of the Yucatan Peninsula, in Mexico. The city has many attractions for tourists including vibrant nightlife, high-end shopping, and beautiful beaches. Cancun is home to some of Mexico's most beautiful white sand beaches and many visitors flock there every year in search of the quintessential tropical experience. The city's warm climate and constant sunshine provide a great opportunity to relax on one of its many stunning coastlines.
Located off the east coast of Quintana Roo on Mexico's Yucatán Peninsula, Cancun boasts over 17 miles (27 km) of extraordinary coastline in all directions: to the north is the Caribbean Sea, and to the south, with its calm turquoise seas, lies Nichupte Lagoon. Many popular tourist hotspots also include nearby Isla Mujeres and Holbox Island along with far-off Tulum, Sian Ka'an Biosphere Reserve, and Cozumel Island. These stunning natural sites are sure to appeal to tourists seeking a unique exploration amidst magnificent wildlife wonders in their Cancun holidays.
Climate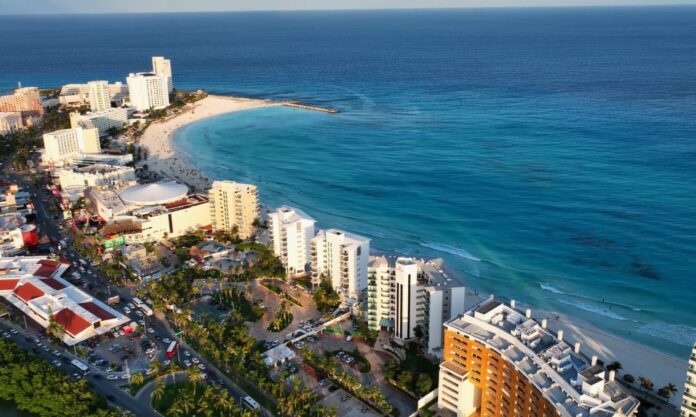 Located on the eastern tip of Mexico's Yucatan Peninsula, Cancun is renowned for its stunning beaches, vibrant nightlife, and plentiful tourist attractions. Its location at the convergence of the Caribbean Sea and the Gulf of Mexico gives it a mild tropical climate with plenty of sunshine hours year-round. The city experiences two distinct seasons: dry (November to April) and wet (May to October). These are separated by a brief transitional period that fluctuates between early fall and late spring.
Cancun is best known for its extensive beaches, but understanding the effects that climate can have on these natural wonders is important when planning a beach vacation here. During the wet season, runoff from rivers and streams introduces large amounts of red deposits into shallow coastal waters, causing seaweed to accumulate along many shores. Staying informed about current conditions can help beachgoers make sure they pick a property where seaweed isn't an issue. Not only can it detract from your overall experience, but there are health risks posed by certain types of seaweed in the ocean — both human consumption and contact can be dangerous in some instances.
Popular Activities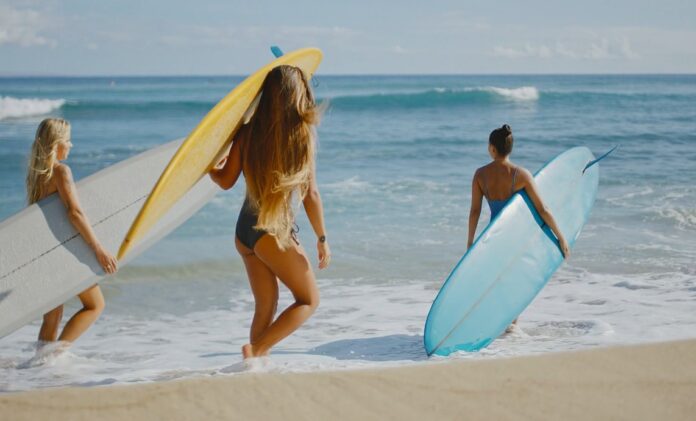 There are a variety of ways to fill your days when visiting Cancun, both on and off the beach!
On the Beach: When you've had enough lounging around, there are numerous water-based activities you can take part in, such as snorkeling, scuba diving, and kayaking. If you're looking for seaside action and thrills, Cocobongo nightclub offers to parasail so you can catch a view of the remarkable coast from above.
No seaweed: Thankfully due to its northerly location and enviable location, Cancun boasts some of the most impressive beaches without seaweed. Don't hesitate to take advantage by heading over to Caleta Beach where the seabed is soft and crystal blue water awaits your visit.
Off the beach: If you want a break from lounging on one of the best beaches in Cancun without seaweed, why not explore Chichen Itza? This ancient Mayan site contains ruins to explore as well as fascinating nearby cenotes for those who'd like to cool off with a swim. Not far away is Tulum – home to yet more archaeological relics set against irresistibly beautiful scenery. Shopping at Yucatan Plaza Shopping Center or Kukulkan Plaza Mall is definitely worth your time too!
Beach Options
If you're looking for a beach in Cancun free of seaweed, you have several options. Below, we'll discuss some of the best ones so you can choose the one that's right for you.
1. Playa Tortugas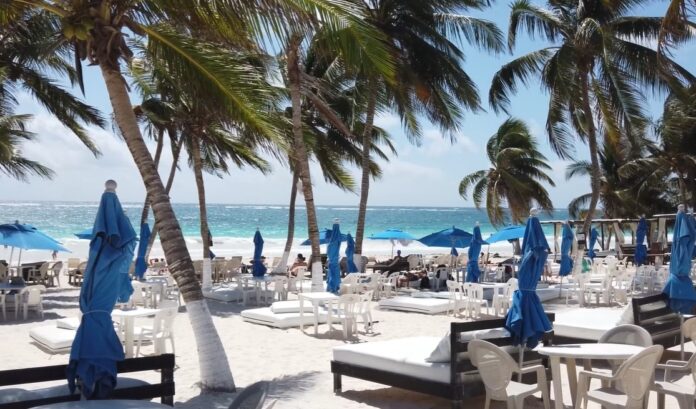 Playa Tortugas is an unspoiled paradise, one of the few beaches in Cancun that has been relatively untouched by human development. Set on a quiet stretch of the Caribbean Sea, this beach boasts crystal clear waters and white sand. The provided facilities are limited, but the calm waters make it an appealing spot for swimming and snorkeling.
It also offers plenty of vegetation, including mangroves, coconut palms, and various other plants. As far as seaweed goes, Playa Tortugas is not completely seaweed-free; however, it does tend to have less seaweed than other beaches in Cancun.
2. Playa Delfines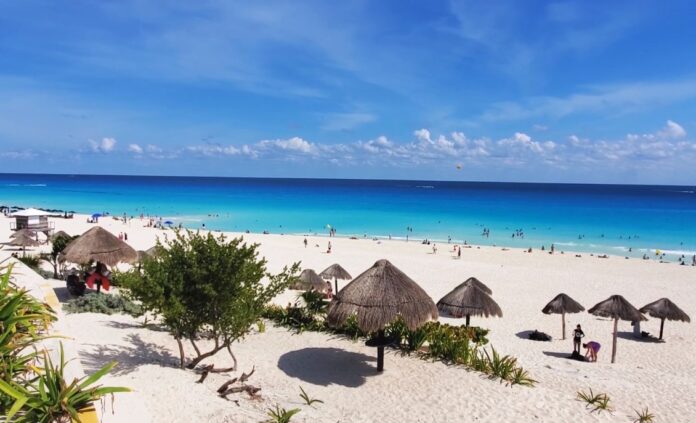 Playa Delfines is one of Cancun's most popular beaches, located close to the party-filled Blvd Kukulcan. While seaweed is a common occurrence in many spots along the Mexican coastline, Playa Delfines rarely experiences accumulations. Spanning 3.2 kilometers (2 miles), this beach offers plenty of space for swimming and sunbathing without ever having to worry about that pesky seaweed!
In addition to its pleasant absence of seaweed, Playa Delfines is uniquely stunning due to its distinct coastline which includes the natural formation known as El Rey (the King) — amazing rock formations framed by crashing turquoise waves. Whether you're taking advantage of its array of rental gear and services or simply indulging in its peaceful atmosphere, Playa Delfines is a must-see stop when vacationing in Cancun!
With bright umbrellas protecting you from the sun's rays and aquamarine waters as far as the eye can see, this beach won't leave you disappointed!
3. Playa Ballenas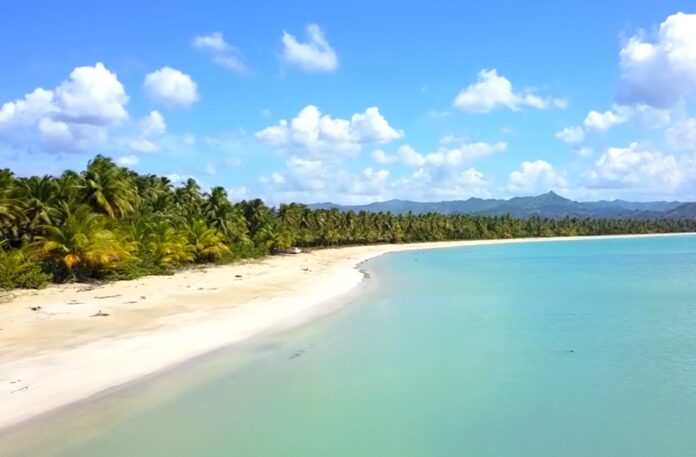 Playa Ballenas, also known as Playa de las Ballenas, is a developed beach located in northern Cancun. This beach is ideal for those looking to explore the Caribbean Sea sans seaweed. Known for its crystal blue waters and long, white-sand beaches, Playa Ballenas offers family-friendly swimming and sunbathing opportunities. Shallow waters also make it perfect for wading.
Along the beachfront promenade are comfortable lounge chairs and umbrellas available if needed, giving you access to the sand without having to lug your own supplies up and down the shoreline. Lifeguards may be present during peak travel times. There are no bathrooms or showers but facilities can be found in nearby snack kiosks or restaurants. Other noteworthy attractions include an erect monument ready to welcome visitors as they arrive from various points of access and countless bars and restaurants offering both seafood delicacies and pizzeria-style dining options just steps from the ocean's edge.
4. Playa Marlin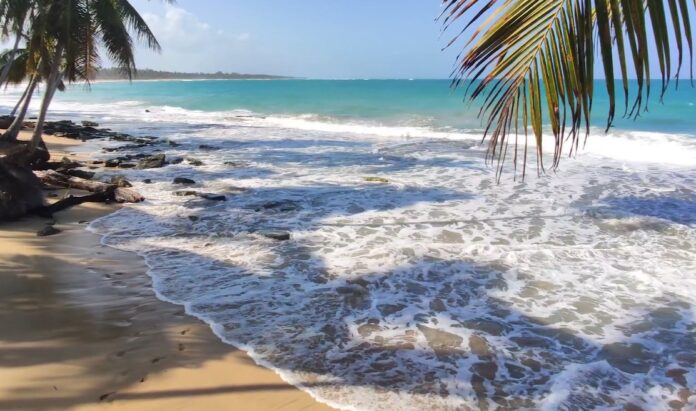 Located just a short drive from the bustling downtown area of Cancun, Playa Marlin is an ideal spot to relax and soak up some of the beautiful Caribbean sunshine. The natural sand is surrounded by crystal-clear waters and towering palm trees, creating an idyllic tropical setting.
The area also offers plenty of amenities such as lifeguard towers, beach umbrellas and chairs, shower facilities, restrooms, and a refreshing swim-up bar. You'll be able to enjoy swimming without worrying about seaweed since Playa Marlin Beach has been well cared for and regularly maintained to keep it free from beach debris like vegetation.
The safe environment makes it great for a family swim or relaxing in the sun for those looking for a quiet spot away from the hustle of downtown!
5. Playa Langosta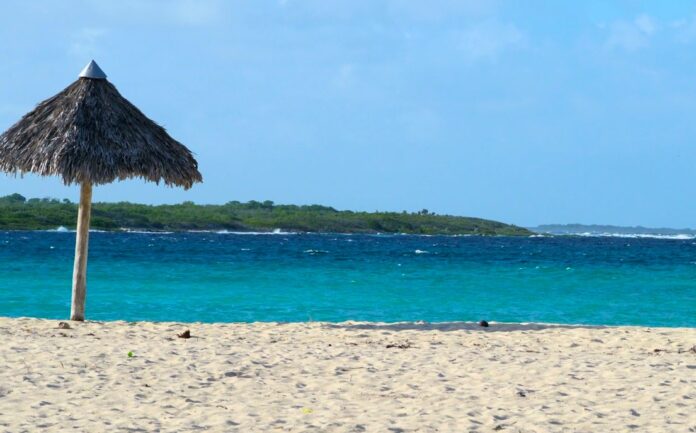 Playa Langosta is located on a small peninsula, just 15 minutes from downtown Cancun. This beach is long and wide offering plenty of room to spread out and enjoy the sun and sand. Due to it being quite far away from seaweed farms in the region, Playa Langosta remains relatively untouched by seaweed even during the height of blooms season.
This beach is situated right next to the luxurious Mayan Palace resort, so those staying at the hotel can take advantage of amenities, beach services, and a pool complex. The calm waters at Playa Langosta are great for swimming, while stormy weather often brings out surfers seeking to ride bigger waves. For those looking for more excitement, there are jet ski rentals along this beach as well as parasailing services and boat tours available nearby.
Tips for Visiting Cancun
Visiting Cancun can be an amazing experience. It's one of the most popular destinations in the Caribbean and is filled with turquoise waters, white sandy beaches, and incredible nightlife.
But if you're looking to avoid seaweed, you'll want to know the best beaches in Cancun without seaweed. In this article, we'll go over some tips for visiting Cancun and which beaches you should make sure to check out.
Bring Sunscreen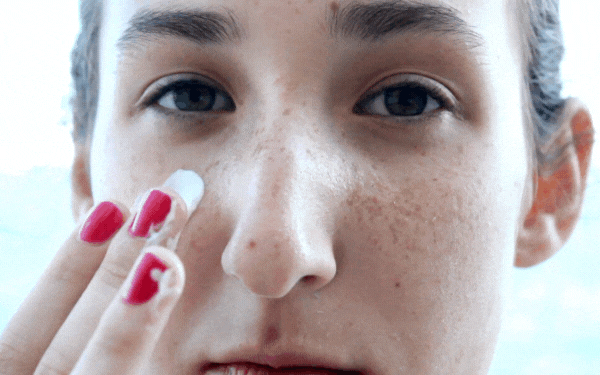 No matter what time of year you are visiting Cancun, packing sunscreen should be part of your essentials. The Caribbean sun can be quite intense and can cause sunburn in a short amount of time, so it is important to present your skin from the rays. Choose a sunscreen with at least SPF 30 and UV protection for maximum coverage, and reapply frequently throughout the day.
Additionally, always wear protective clothing and stay in shaded areas as much as possible when outside to avoid long-term sun damage.
Pack Light
When planning a trip to the beaches of Cancun, it is important to pack light. There are several advantages to packing light on a beach vacation. Besides, who wants to schlep around heavy bags or have to pay for checked bags on an airline?
Light packing allows for more flexibility and convenience when you arrive at your destination. You can easily move from place to place and will not tire yourself out carrying too much stuff. It also limits possible baggage fees when flying and makes it easier for the rental car company if you have minimal luggage. You can purchase what you need when in Mexico, especially if it is just sandals or lotion that you forgot.
To pack light you will want to rethink what items are must-haves versus nice-to-haves. Only bring essential items and always double-check your bag before leaving home – we all forget things! If there is something you think you may need but don't want to carry make sure there is an alternative available at your destination, like a store or even ask your hotel desk should they provide an item – many do. Pack items that can be worn in multiple ways such as versatile dresses, sandals, and scarves so that each item has more use than just one outfit choice; this strategy will save space in whatever bag choice you make when traveling!
Bring a Snorkel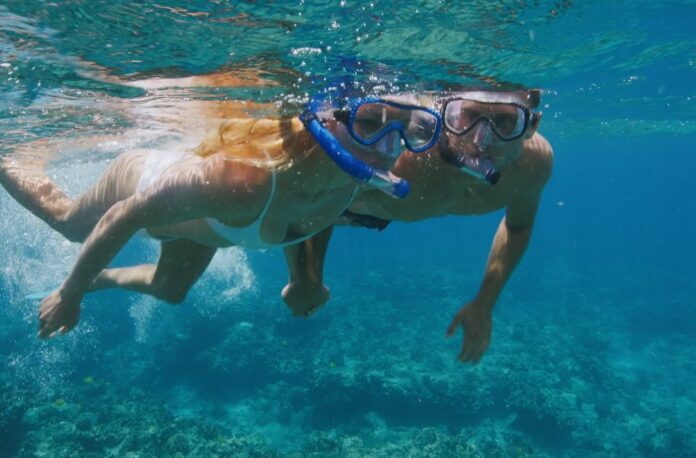 Snorkeling is a fantastic, easy way to explore the underwater world around Cancun. With equipment so easily accessible and affordable, you'll be able to fully appreciate Mexico's stunning waters! Before you go, it's important to plan out what type of snorkel gear best suits your needs. Snorkel sets usually range from basic silicone models all the way up to more advanced full-face snorkeling masks. Additional items like fins and weights may also be necessary depending on where you are planning to swim and how comfortable you may feel wearing heavier gear in the water.
When choosing a snorkel set, consider what pressure level is most comfortable for your type of swimming experience (snorkeling lessons are available in some areas!) Pay attention to the type of breathing tube as well — semi-dry valves or purge snorkels with one or two chambers will make clearing your mask easier when submerged. There are plenty of options for everyone: whether you're diving solo or looking for a set that allows for an enjoyable group experience!
Wear Water Shoes
When visiting the beaches of Cancun it's important to wear water shoes. Not only can wearing shoes prevent your feet from getting cut or scraped by any coral present, but it can also help you identify and avoid swaths of seaweed. This is because the rough edges of coral are pretty easy to feel through your shoes, giving you a moment to dodge in the opposite direction.
You'll also be able to walk on certain rocks and areas that may be uncomfortable walking barefoot. Wearing a pair of water shoes with a good grip will ensure that you don't lose your footing while exploring the beach areas around Cancun. Just make sure they're designed for water, as some shoe materials can become soaked and take forever to dry out!
Bring a Beach Towel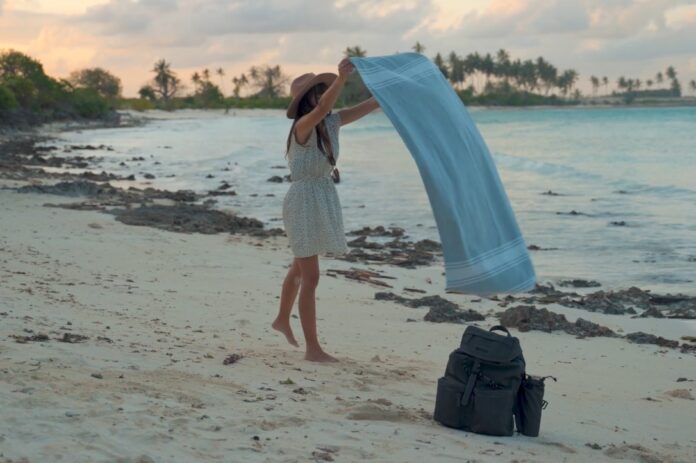 When visiting the beaches of Cancun, you will want to bring a beach towel to help dry off and sit on the sand. Beach towels come in many forms and sizes but for convenience, opt for a lightweight, foldable beach towel so it can be easily carried around. This also helps save space for packing other essentials for your trips such as sunscreen and swimwear.
If you're looking for some luxury; invest in an oversized, thick beach towel that is extra fluffy and soft to lay on in the sun. Don't forget your sunglasses, a hat, and flip-flops too!
FAQs
Are the seaweed-free beaches in Cancun safe for children?
Yes, most of the seaweed-free beaches in Cancun are safe for children. However, it is always recommended to keep a close eye on them.
Are there any restaurants or food vendors near the seaweed-free beaches in Cancun?
Yes, there are many restaurants and food vendors near the seaweed-free beaches in Cancun.
Is it necessary to bring my own beach chairs and umbrellas to the seaweed-free beaches in Cancun?
It is not necessary to bring them as most of the beaches in Cancun without seaweed have rental facilities available.
Can I park my car near the seaweed-free beaches in Cancun?
Yes, most of them have parking facilities available.
Can I take a boat tour to the seaweed-free beaches in Cancun?
Yes, there are many boat tours available that take you to them.
What is the best time of year to visit the seaweed-free beaches in Cancun?
The best time to visit the seaweed-free beaches in Cancun is between December and April when the weather is dry and sunny.
Are there any restrooms or shower facilities near the seaweed-free beaches in Cancun?
Yes, most of them have restrooms and shower facilities available.
Conclusion
In conclusion, when it comes to finding the best beaches in Cancun without seaweed, Playa Delfines should be top of your list. Playa Marlin, La Tigre Beach Club, Akumal Beach and Gran Coral Beach all make great options for enjoying a beach day that is free from seaweed.
Always remember to take safety precautions before entering the water and take only pictures so you can preserve your memories for a lifetime!